Royalty and mugs always go well together: Steve Bell
Award winning cartoonist Steve Bell has a long relationship with the Guardian newspaper, not least with his regular IF cartoon strip that has featured in the newspaper since 1981. It's a sharp and irreverent narrative of those in power, often portrayed alongside penguins, farmyard animals and the occasional badger. In a short film (4min) Bell Époque: 30 Years of Steve Bell he talks about his childhood inspiration, his early work and a piece commissioned for his recent exhibition at London's Cartoon Museum.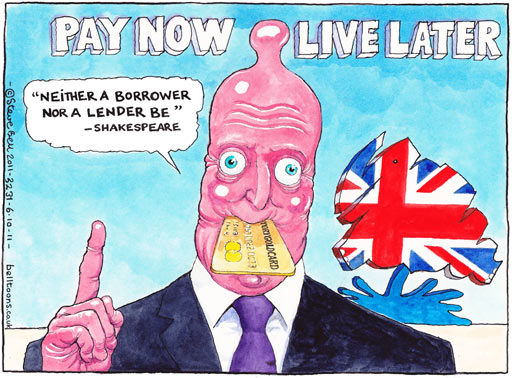 As with all satirical cartoonists Bell has a keen eye on what's going on in politics and the implications for the rest of us, but for me, the beauty of his work is bringing this to life through visual metaphors and narratives that have as much to do with Aesop's fables than just being a caricaturist.
Bell often makes reference in his work to the pioneering political and social satire of James Gillray (1756-1815), occasionally reinterpreting Gillray's images for a modern context but more importantly keeping up an unflinching critique of those in power. Like Gillray before him, Bell is locked in a visual arm wrestle with the official image-makers for supremacy of how figureheads are represented. The spin doctors might have the press release on their side, but Bell has the freedom to represent John Major with his underpants on the outside of his suit or David Cameron with a head like a fish in a condom.
This battle for an official image over popular representations was keenly fought over between James Gillray and George III (Gillrary probably won) and now Bell has joined in the war of the Royal Mugs with his own Royal Wedding Souvenirs or as he calls it 'royal related crap'. It's gloves off for Bell when it comes to the Royal Family, so be warned when you watch! Steve Bell's royal wedding: 'Royalty and mugs always go well together' – video (3 min).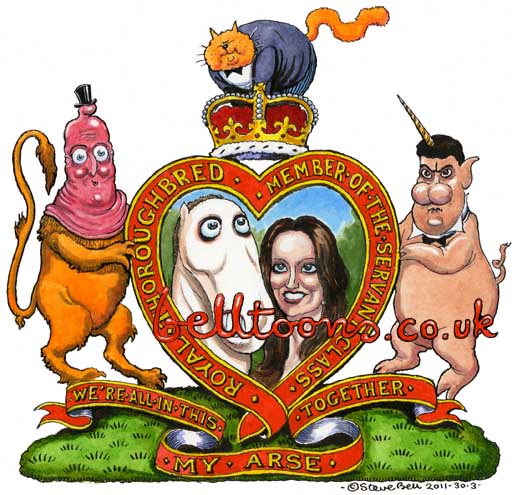 As part of Steve Bell's sketchbook, the Guardian have made a series of other short films including Bell at the Tory Party Conference drawing Boris Johnson as 'a big, bumptious Tory git' and depicting 'not the most stunning body language' of Ed Milliband. You can also catch up on the previous three decades of his work at  Belltoons.
---
Back to blog listings